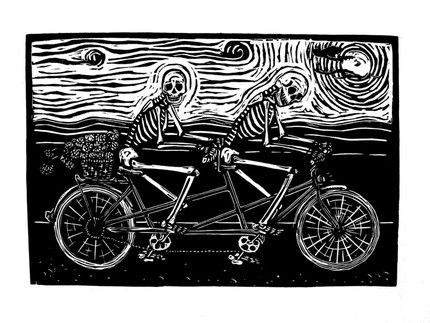 I think I'm allergic to Big Jim Slade, but only when we cross certain northern state lines. It's as if some chemical change occurs when we hit Georgia soil, and I wind up sick, if I've been in close proximity to our local Majestic Stallion. This is 2 road trips now, where I've returned home sick. I'm just sayin'!
The trip itself was good. The folks at Camp Thunder BSA have changed their view point on public trail usage. In the past it was bootleg deal, no cop, no stop. Though, in this case, I suppose it would be, no troop leader, no stoop feeder, or something else way more clever that I am simply not bright enough to come up with at the moment. Now, they welcome cyclists, regardless of Boy Scout, Girl Scout, Brownie, or Taliban affiliation. You got 4 bucks, you ride. Of course they want you give THEM the $4, but you get the point. They also now welcome camping. They have these giant canvas tents built on deck style platforms, with 2 cots in each. They rent the tents out at $8 bucks a head...er, per person. I smell a BC weekend camping trip on the horizon.
The 1st climb up from the Flint River always lives up to my expectations. It's just 10-12 minutes of granny gear grueling for this clydesdale. BJS and I discussed at the top that this climb is the worst one on the course. While there are a couple of others just about as long, they tend to run along old logging roads or jeep trails. This one is singletrack top to bottom, with switchbacks and gravel, the whole way. Finesse is important. A heavy gorilla pedal stroke will stop you dead, while your rear wheel gleefully spits a shower of rocks on the guy behind you.
The views up top are not too bad for Central GA.
I think I even found a new location for my own bike shop. Bigworms House of Repair Emporium(B.H.O.R.E) may soon be open for business!
The next morning found us at the Dauset trailhead. This is one of my favorite trails systems in GA. There are harder trails, longer trails, and more epic trails, but these are just plain fun. You can link an 18 mile loop with minor overlap, or you can time your laps to be a little shorter, to afford return trips to the truck to replenish water bottles. For those of us who hate wearing backpack style water systems, it's nice to be able to tailor the lap length. The last few trips to Dauset have been less than spectacular. We had 2 swamp episodes, and 2 years ago we raced there in the dead of summer. Blazing, relentless, heat and humidity were on point. I'm still not sure how it could have been that humid, yet the trails were true dust bowls! Not this time. This time, the trails were as good as they get. I tested the limits of my tire's side knobs at every opportunity, and was rewarded with joyous free speed every time. The first 2 minutes down Bootlegger brings on the perma-grin.
It sucks getting home sick(not the same as homesick), but the trip was worth it in spades. Now, if I can just find a cheap helicopter, then I can move up there, and still keep my job. Big Jim says it has be a 6 man chopper, because he's tired of driving all these road trips. I'll just have to see...